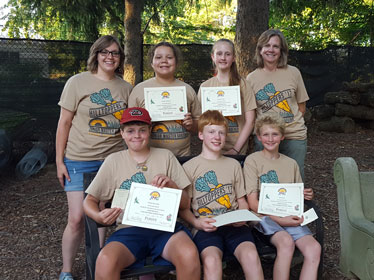 "The Junior Master Gardener program is an international youth gardening program of the university cooperative Extension network. JMG engages children in novel, "hands-on" group and individual learning experiences that provide a love of gardening, develop an appreciation for the environment, and cultivate the mind."
"JMG also inspires youths to be of service to others through service learning and leadership development projects, and rewards them with certification and recognition.  Children can get involved in exploring their world through meaningful activities that encourage leadership development, personal pride and responsibility, and community involvement. Youth involved in the program develop critical thinking skills, and the ability to identify community concerns and take action to address them through individual group projects."   -  What is a Junior Master Gardener?
Structure
The Junior Master Gardener Program (JMG) is a FREE program that provides gardening education for 9-13 yr. olds.  The JMG program runs March through August.  Students come to Hilltop once a week for an hour and a half to participate in an activity and work in their garden plot.  Each week, a new topic will be presented and the same activity will be offered at two different times.  When registering, parents will specify which time they would like their student to attend each week.
Certification Requirements
Students have the opportunity to become certified Junior Master Gardeners in the following areas:
Plant Growth & Development
Landscape Horticulture
Fruits and Nuts
Vegetables and Herbs
Life Skills and Career Exploration
In addition to individual and group activities, students have opportunities for community service projects, participating in the Monroe County fair, and participating in Hilltop events!
Participant Benefits
Participants do not need to bring any gardening materials. All plants, seeds, fertilizer, tools, materials, etc. are provided; however, if there is something a student would like to grow that Hilltop does not provide, the student is welcome to bring in additional seeds or plants.  In addition to fulfilling gardening curriculum activities, each student will also plan and maintain their own 4'x8' garden plot. Participants will be able to take home all the produce grown in their garden plot as well as additional herbs and produce grown at Hilltop Gardens.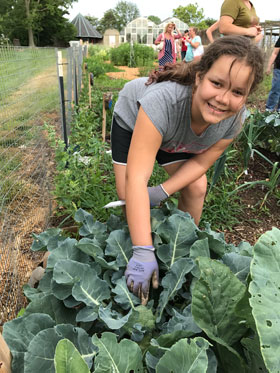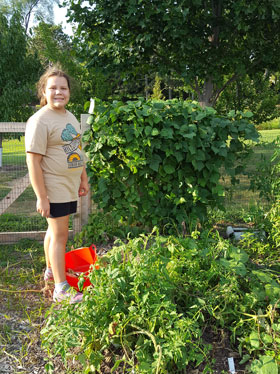 Absence Policy
Students who need to miss a weekly JMG program session need to notify Hilltop to let us know they will not be able to attend that week. Students who miss more than 5 weeks in total may find it difficult to complete the JMG certification requirements. Students may still participate in the program even if they do not complete all requirements.
 To receive notification when the 2020 registration date is announced, email hilltop@indiana.edu .