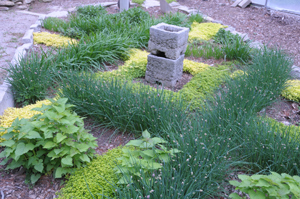 In memory of Arlene Ferguson, and early supporter of Hilltop, this garden was established in 1981 by the Ferguson family. The garden is planted with herbs arranged in a geometric shaped lattice pattern. The garden produces oregano, sage, thyme, lavender, chives, garlic chives, basil and mint. The herbs are of­ten dried or used to flavor oils and tinctures when the lattice needs trimming to maintain its shape.
| | |
| --- | --- |
| | Mint is grown in the herb garden in two places. At the south end a row of geodes defines the extent of a patch of common mint that grows 2-3 feet tall. This mint loves to run and the geodes help us know when to pull up the runners. |
| | Corsican mint (Mentha requienii), a creeping form of mint that has a harsh mint flavor can be found in the lattice. Commercially it is used to flavor Creme de Menthe liquor. |
| | Lavender(La­vandula angusti­folia) is a shrubby plant grown in England, France, and most of the Mediterranean. Used in making perfumes, you can dry it and put it in small pouches of open cloth that you throw into drawers to put aroma into your clothing. |
| | Sage (Salvia officinalis) is a woody plant that sometimes does not survive our win­ters. The leaves are hairy and can be used fresh or dried. It is the spice most of­ten used at Thanksgiving to flavor turkey dressing. |
| | Garlic chives(Al­lium tuberosum) have been used as culinary herbs for thousands of years and were prob­ably used first by the Chinese and ancient Greeks. The leaves and the flowers are used in Chinese cook­ing. Garlic chives are also used as a medicinal herb in Chinese medicine. Garlic chives have a flat leaf which helps us tell it apart from regular chives whose leaf is round and hol­low. |
| | Basil(Ocimum basilicum) is an annual. Each year we save seed from a number of basil varieties. Basils have different aromas including anise, lemon, lime, tutti-fruit, and others. Basil comes in green, variegated, purple colored leaves and some have green leaves with purple flower heads. We start seeds in the greenhouse for planting in the herb garden and in vegetable gardens as companion plants to our tomatoes and peppers. |
| | Anise Hyssop (Agastache) is a pe­rennial in the mint family. It has flower spikes from summer into fall. Often dried spikes are used in flower arrangements. We started these plants from seed. Fresh leaves and flowers can be used in sal­ads or as gar­nish. The flowers are sometimes used in tea breads. |
| | Oregano (Origanum vulgare) of two types grows in the herb garden. Often used in Italian cooking both of these can be used like the regular green oregano. |
| | The Golden Oreg­ano stays low to the ground and is a yellow gold color in the intense sun. It often tries to get out of its row and harvesting is a fra­grant treat for the harvester. |
| | Our Variegated Oregano is not quite as hardy as the golden but comes back each year in the spring. It too is low to the ground. |
| | There are many flavors of Thyme such as lemon, nutmeg, and orange; but, the thyme in the Ferguson Herb garden is the English thyme (Thymus vulgaris) that is used in Eng­lish, French and Central European cooking. It is very hardy and is planted in the lattice. It has found its way also to the edges of the garden and can be seen cascading over the rock edges. |
Herb Mixtures
Herbs de Provence
Used to flavor meat/poultry for grilling or in cooking of vegetables.
3 tablespoons dried oregano leaves
3 tablespoons dried thyme leaves
1 teaspoon dried basil leaves
1 teaspoon dried sage leaf
3 tablespoons dried savory
2 tablespoons dried lavender flowers
1 teaspoon dried rosemary
Italian Seasoning
Often used to flavor tomato sauce.
3 tablespoons dried basil
3 tablespoons dried oregano
3 tablespoons dried parsley
1 tablespoon garlic powder
1 teaspoon onion powder
1 teaspoon dried thyme
1 teaspoon dried rosemary
1/4 teaspoon black pepper
1/4 teaspoon red pepper flakes
Directions:
• Mix all ingredients in a spice grinder.
• OR put in a small bowl and crush with the back of a spoon.
• Store in an airtight jar for up to 6 months.
Bouquet Garni
Used when cooking meats and vegetables. Usually tied in cheesecloth and removed after cooking.
1/4 cup dried parsley
2 Tablespoons dried thyme
2 Tablespoons dried bay leaf
2 Tablespoons dried rosemary